At St Pius X RC we believe that a school curriculum should offer many opportunities for our children to achieve success in a range of subject areas and for the curriculum to be broad and balanced. We are using Curriculum Maestro to ensure these opportunities are relevant and that the coverage also allows coherent connections between different subjects.
Intent
The needs and context of the children are at the heart of St Pius X. We recognise that we are all unique: and made in the image of likeness of God so the core values of our Catholic education are central to the life of our school.
We want our children to have a sense of self-worth through their experience of belonging to a caring community and in turn giving back to others near and far. We aim to develop the importance of values, whilst respecting the differences of others and give them an introduction to the essential knowledge and skills that they need to be an educated citizen and to be able to face the challenges ahead.
Our curriculum is designed to develop independent, confident, inquisitive, determined, motivated, resourceful, resilient. and successful learners with high aspirations, who are well prepared for life in modern Britain. It is thematic in design, enabling children to make sense of what is taught, through carefully planned sequences of learning and 'big ideas', which are relevant to the children. To help children to learn and remember new knowledge, opportunities for recapping and knowledge retrieval are key features of our curriculum to ensure children store knowledge in their long-term memory and can recall this with ease: transferring their knowledge into different situations and applying it to a range of contexts, whilst freeing up their working memory to learn more.
We provide a wide range of rich, first-hand learning experiences:  exploiting the educational opportunities in Middlesbrough and beyond. Through teaching the full national curriculum we aim to spark the children's curiosity; ignite within the children a passion for learning; and uncover and build upon their individual talents. We know and value the fact that we are all created individually with gifts and talents that can be used to bring glory to God.
Implementation
We believe our children have the right to experience a rich, broad and balanced curriculum and this is our aim. Our curriculum promotes children's independence, resilience and confidence.
To do this our curriculum:
is inclusive, so that every child can achieve their potential. Not all children learn at the same rate or in the same way. We need to adapt to this. Teachers don't all teach in the same way for every lesson. Teachers have the freedom to structure lessons with independence so the best outcomes can be achieved for the children in their care.
reflects children's interests and their world, to make learning meaningful and purposeful.
is interactive and engaging to children developing their interests and skills in an appropriate way.
 To achieve this, we have adopted the following BIG ideas: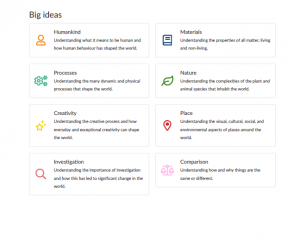 Our Pedagogy
In order to provide meaningful learning experiences for the children, we teach in flexible ways depending on the needs of the children, the topic and the intended outcomes.  This gives capacity to block whole days for practical work, or to have mini-topics to celebrate national events or liturgical themes.
Additional Opportunities for Our Children
In addition to our curriculum, regular opportunities are provided
to share achievements in assemblies and other whole school events
hear 'pupil voice' and be involved in decision-making that effects the whole school, e.g. through School Council, Eco-Warriors, Digital Leaders etc and through pupil surveys.
represent the school through sporting events and musical/dramatic performances
join in a wide range of clubs and extra-curricular activities both after school and
during lunchtimes, e.g. IT Club, Football Club, Arts and Crafts Club, Music Club etc
to perform in plays and other dramatic and musical performances
playing in local sports tournaments across the year – Years 5 and 6
to learn through practical, hands-on, investigative activities, e.g. growing fruit and vegetables, cooking etc.
Visits and Visitors
To enhance the curriculum the children should benefit through a range of experiences, e.g
Hearing from a range of professions in order to spark their curiosity and aspirations – EYs – Y6
Seeing performing artists in residence during their primary schooling – EYs – Y6
Visiting a theatre – EYs – Y6 (e.g. Panto)
A residential visit – Year 6
Visits that are sometimes linked to topics – (where possible we aim for 1 per term) – EYs – Y6
Regular opportunities to work alongside parents
Hearing from past pupils who have excelled and can share their achievement
Impact
The outcomes of the curriculum are measured by the attainment and progress made by the children. Put simply how much the children know and remember including whether or not the children have mastered a particular skill. Teachers continually use assessment of the children's responses and the work they produce to measure impact. Subject leaders play an important part in the success of the curriculum by leading a regular programme of monitoring, evaluation and review. This includes book scrutinies, learning walks and lesson observations to measure the impact of teaching and learning. Teachers and leaders also have the school's curriculum assessment data to support judgements on the impact our curriculum is having.
The leadership team in consultation with staff and children regularly review and renew the school curriculum to ensure all elements are fit for purpose.
Curriculum: Long Term Overview.