At St Pius X RC we believe that a school curriculum should offer many opportunities for our children to achieve success in a range of subject areas and for the curriculum to be broad and balanced. We are using Curriculum Maestro to ensure these opportunities are relevant and that the coverage also allows coherent connections between different subjects.
Our Intent
The needs and context of the children are at the heart of St Pius X, we recognise that we are all unique: made in the image of likeness of God. We provide pupils with an introduction to the essential knowledge and skills that they need to be an educated citizen. Our curriculum is thematic in design, enabling children to make sense of what is taught, through carefully planned sequences of learning and 'big ideas', which are relevant to the children. Exploiting the educational opportunities in Middlesbrough and beyond. We provide a wide range of rich, first-hand learning experiences. The thematic links allow children to transfer their knowledge into different situations and apply it to a range of contexts. Through teaching the full national curriculum we aim to spark the children's curiosity; ignite within the children a passion for learning; and uncover and build upon their individual talents. We recognise that we were all created individually with unique gifts and talents that can be used to bring glory to God.
If you would like more information on our curriculum or request a paper copy please see Reception.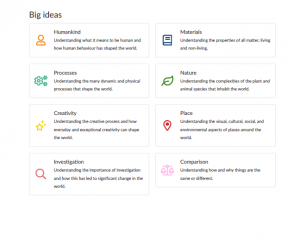 Maths is taught using the Power Maths scheme, perfectly aligned with the WhiteRose framework to ensure coverage and progression. Power Maths is a whole-class mastery programme designed to spark curiosity and excitement and help our children to nurture confidence in maths. Problems are presented in a variety of ways to enable children to gain a deeper understanding of a mathematical concept not simply to learn the mechanics of a calculation. Children are encouraged to make mistakes, from here they are able to further deepen their understanding by identifying the misconception and proving how they have worked out this answer.
We use 5 a day to ensure that children are confident and familiar with the four operations of addition, subtraction, multiplication and division as well as being presented with problem solving opportunities. Years 3-6 use Times Table Rockstars to help develop their fluency of times tables in a fun and competitive way.
Arithmetic is another important aspect of mathematics, children must be confident to use mental maths strategies and formal written methods. We believe that in order for children to be confident mathematicians they must have a sound understanding of a concept supported through concrete and pictorial approaches before becoming more secure in abstract working, and be able to explain their working with increasingly accurate and concise explanations.
Click here to view our maths progression document.
At St Pius we recognise that English has an important place in education and in society. We believe that a high-quality education in English will teach pupils to speak and write fluently so that they can communicate their ideas and emotions to others. We acknowledge the context of the children who attend our school and so prioritise spoken language and vocabulary development within our English lessons. In order to motivate and engage our children we expose the children to high quality books and creative teaching approaches: enabling our children to deepen their understanding of texts and provide a meaningful context for writing, which is linked to the current learning projects.
From September we will be using the Talk for Writing approach within our English lessons. This will enable children to read and write independently for a variety of audiences and purposes within different subjects. A key feature is that children internalise the language structures needed to write through 'talking the text', as well as close reading. The approach moves from dependence towards independence, with the teacher using shared and guided teaching to develop the ability in children to write creatively and powerfully.
EYFS
What is the EYFS curriculum? 
The Development Matters document explains exactly what the children have to achieve and how we can all work together to help children to do so Click here to view full document.
The EYFS curriculum is separated into seven areas of learning. The children learn through play to develop their skills in all seven areas.
Practitioners working with the youngest children in Nursery will focus strongly on the three prime areas, which are the basis for successful learning in the other four specific areas. The three prime areas reflect the key skills and capacities all children need to develop and learn effectively, and become ready for school. The balance will shift towards a more equal focus on all areas of learning as the children move through the Early Years and grow in confidence and ability within the three prime areas.
The Prime areas are:
Communication and Language
Physical Development
Personal, Social and Emotional Development
The specific areas are:
Literacy
Mathematics
Understanding the World
Expressive Arts and Design
St Pius X EYFS Curriculum
We believe that children have a large role to play in their learning. They have a role in planning what they learn about and what the continuous provision will include. The children have opportunities in their key worker groups to discuss what they have learnt and experienced in the setting and how they can develop their learning further.
Thematic work ensures that play is purposeful. The children's learning is based around topics linked to their interests and to the seasons and opportunities around us. We ensure that the classroom environments are stimulating and interesting. The resources are labelled and organised well and changed to ensure that the continuous provision is engaging. We place a high value on open ended questioning, ensuring that every child is challenged and moved forward in their learning.
We offer opportunities to develop an understanding of the world around them through thematic work, outdoor play and visits to other places. We want the children to have new and different experiences from home.
We value our parent partnerships at St Pius X. The parents regularly attend Stay and Play sessions, trips, parent's evenings, new starters meetings and Reception starters meetings. These sessions ensure that parents and staff can share key information about the children's learning.
"The relatively new early years leader has improved provision substantially... and adults intervene in children's learning to make it more challenging." (Philip Riozzi, Her Majesty's Inspector)
The RE Curriculum
Here at St Pius X we follow the 'Come and See' scheme of work. The Cathecism of the Catholic Church addresses the search for meaning in life. God's initiative in Revelation who comes to meet us and respond in faith. This pattern guides the structure of the 'Come and See' programme and informs the process of each topic, opened through, Explore, Reveal and Respond.
Reading
At St Pius X reading is a priority: we are promoting and encouraging a love of reading in all children. We understand the importance of being able to read, both within the curriculum and wider world: therefore, we plan opportunities to expose children to a wider variety of genres of books and types of texts.
Key Stage 2: Whole Class Reading The teacher models good reading with appropriate fluency, pace, expression, stress and intonation. Typically, explanations and questions are interspersed during reading, alongside checking vocabulary and monitoring comprehension. At other points in the session the teacher selects random individuals to read and on occasion the teacher and pupils read in unison. Each lesson will have a specific skill-based focus linked to the text studied. Mondays will always focus on developing the children's vocabulary. Throughout the rest of the week he following skills will be taught: inference, prediction, explanation, retrieval and summarising. At St Pius X we recognise that there are five types of texts that children should have access to in order to successfully navigate reading with confidence. These text types are detailed below and mapped out across our reading curriculum.
Archaic Language: The vocabulary, usage, syntax and context for cultural reference of texts over 50 or 100 years old are vastly different and typically more complex than texts written today. Children need to be exposed to and develop proficiency with antiquated forms of expression.
Non-Linear Time Sequences: Books where every aspect of the narration is nuanced to create an exact image, time moves in fits and starts. It doubles back. The only way to master such books is to have read them time and again and to be carefully introduced to them by a thoughtful teacher or parent.
Narratively Complex Books : These books are sometimes narrated by an unreliable narrator or a non-human narrator, such as the horse that tells the story in Black Beauty. Some books have multiple intertwined and apparently (for a time) unrelated plot lines. These are far harder to read than books with a single plot line and children need to experience these as well.
Figurative/Symbolic Texts: These are books which happen on an allegorical or symbolic level. Resistant Texts: Books which are written to deliberately resist easy meaning-making by readers. As many as half of the poems ever written fall into this category: as a reader you have to assemble meaning around nuances, hints, uncertainties and clues
Reading in key stage 1: In key stage 1 children will read the colour banded books from Bug Club as well as independent enhanced provision within the classroom. Within key stage 1 children will also be using the Reading Rocketeers scheme as an introduction to whole class reading.
Reading in EYFS: Reading starts within the Early Years, when children are introduced and exposed to phonics teaching. Guided reading begins in Reception using Bug Club colour banded books. Children will work in small groups led by the teacher to read and answer questions.
Phonics
Bug Club Phonics is one of the DfE's approved phonics teaching programmes and aims to help all children in our school learn to read by the age of six in a fun and accessible way. The scheme follows the order of Letters and Sounds and matches the National Curriculum and Early Learning Goals. Phonics lessons take place daily in the EYFS and key stage 1.
Handwriting
At St Pius we encourage children to take pride in their work and have high expectations within handwriting. Handwriting is taught as a discrete lesson every day after lunch for 10-15 minutes. Nelson Handwriting Scheme is used throughout school: starting from Reception right up to Year 6.
The scheme is designed to help children develop a confident, legible and personal handwriting style that meets the end of key stage expectations. The programme begins by ensuring children have the correct posture and pencil grip, which are the foundations for writing, before focusing on letter formation and joins. Letters are introduced in line with Letters and Sounds and the scheme includes pattern practice and fine motor skills work - with three levels of differentiation. Please see below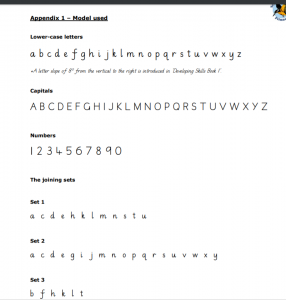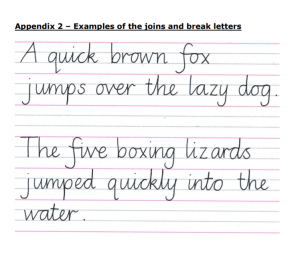 Spag
Spelling, Punctuation and Grammar (SPaG) sessions are taught daily in Key Stage 2, using the PiXL Primary scheme. Children will take home weekly spellings in accordance with the statutory spellings and spelling rules for their age and ability. Children will then be tested weekly on these spellings.
Computing
At St Pius X we want our pupils to be MASTERS of technology and not slaves to it. Technology is everywhere and will play a pivotal part in our students' lives . Therefore, we want to model and educate our pupils on how to use technology positively, responsibly and safely. We want our pupils to be creators not consumers of technology and for them to understand that there is always a choice with using technology and therefore, as a school, take every opportunity to utilise technology to model positive use. We recognise that the best prevention for many issues we currently see with technology/social media is through education.
Our thematic approach to the curriculum has to be balanced with the opportunity for pupils to apply their knowledge creatively, which will in turn, help our pupils become skilful computer scientists. We encourage staff to try to embed computing across the whole curriculum to make learning creative and accessible. We want our pupils to be fluent with a range of tools to best express their understanding and hope by Upper Key Stage 2, children have the independence and confidence to choose the best tool to fulfil the task and challenge set by teachers. In addition, we understand that effective use of technology can open accessibility opportunities for our pupils – especially for our SEND children – and is why our KS2 children all have access to one-to-one iPads.
Art and Design
At the heart of art, we recognise that all children should have opportunities to express their creativity. Through the St Pius X curriculum, which is thematic in design, we aim to teach through a wide range of first-hand learning experiences and exploit the opportunities to develop children's creativity through comparison and the focus on significant people, artwork and movements. In line with the National Curriculum, we intend to allow children to develop their proficiency in art first through the focus on themselves and exploring art by developing their use in a range of key materials.
Design Technology
At the heart of art, we recognise that all children should have opportunities to express their uniqueness, creativity and individual talents. At St Pius X, we aim to exploit these opportunities when they arise. Through the St Pius X curriculum, which is thematic in design, we aim to allow children to transfer their knowledge of Design and Technology to a range of contexts. Design Technology is taught through a wide range of rich, first-hand learning experiences. In line with the National Curriculum, we aim to allow children to explore and develop ideas, investigate and make, evaluate, and develop their knowledge and understanding within Design Technology.
Geography
At St Pius X we believe that Geography helps children understand a world beyond their local community, a world beyond many children's personal experiences and give them the skills and knowledge to understand the world they live in. We adopt a here, near and far approach from Early Years through to Year 6 in order to take the child from their local community to the wider world. Our Geography curriculum helps to promote curiosity and provide answers to questions about the natural and human aspects of the world. Children are encouraged to develop a greater understanding and knowledge of the world, as well as their place in it. Children at St Pius X have very little experience with the local area and wider world; therefore, it is our job to explore the local area and world beyond their town to show children the diverse cultures, which are within our world. Geography is an investigative subject, which develops an understanding of concepts, knowledge and skills. We seek to inspire in children a curiosity and fascination about the world and its people, which will remain with them for the rest of their lives; to promote the children's interest and understanding of diverse places, people, resources and natural and human environments, together with a deep understanding of the Earth's key physical and human processes. The curriculum is designed to develop knowledge and skills that are progressive, as well as transferable, throughout their time at St Pius X.
French
At St Pius X French is taught once weekly throughout Key Stage 2. We feel that exposing children to the French language will foster their curiosity and deepen their understanding of the world. Through a fun and engaging curriculum, we aim to provide the children with the tools to express themselves both aurally and in writing by the end of Year 6. This would give our children a strong foundation on which to build a love of other languages and learning as they continue into Secondary School. French doesn't naturally link with the thematic design of St Pius X's curriculum. As French is a new skill from year 3, the children are starting at the very beginning of the French language.
History
Here at St Pius X, we aim for a high quality history curriculum which inspires all pupils curiosity and interest about the world they grow up in; Britain's past and that of the wider world whilst teaching the National Curriculum. Our teaching equips pupils with knowledge about the history of Britain and the wider world and how this has influenced the present as well as the knowledge that is, in many years they will be part of British History and will be living through big events in time. We equip our children with the chronological knowledge and understanding to study a certain period in time. The knowledge and understanding of past events, to know and understand about significant aspects of the history of the wider world like ancient civilisations and empires beyond living memory. The history curriculum allows children to develop their knowledge and skills to historically interpret and enquire and be able to ask and answer questions. Children use all their skills in order to organise and communicate the information they have found. We want children to enjoy and love learning history by gaining all this knowledge and skills.
Music
At the heart of music, we aim to ignite a passion for this subject which allows children to develop themselves creatively. Whether this is through performing, composing or appraising, children are provided with an introduction to the essential musical knowledge and skills to appreciate a wide range of music. Within music, all children have the opportunity to individual, group and collective performances – whilst exploiting the opportunities given in Catholic education.
Science
At St Pius X we provide pupils with opportunities to develop scientific knowledge and conceptual understanding through the specific disciplines of biology, chemistry and physics. We encourage children to develop their understanding of the nature, processes and methods of science through different types of scientific enquires that help them answer questions about the world around them. We equip the children with the scientific knowledge required to understand the uses of science, today and for the future, enabling them to become educated citizens.
PSHE
The intent of the PSHE curriculum at St Pius X is to provide children with the essential knowledge and skills they need to be a well-rounded and educated citizen. Lessons linked to the thematic curriculum where this is possible, but other topics are taught discretely. All lessons are taught at pitch appropriate to the experiences and maturity of the children. PSHE at St Pius seeks to provide the children with knowledge and understanding they can draw upon for the rest of their lives, particularly in relation to managing and understanding their emotions and those of others; ways of keeping safe and healthy; and understanding their role and responsibilities in the community and society as a whole.