School Uniform
We expect all children to wear school uniform –including our PE kit, to foster a pride in their appearance and their school.  In addition, it helps us to identify them when out on school visits.
The basic uniform requirements are as follows:
Girls:
Grey skirt/pinafore
Grey tights
White or grey socks
Suitable black footwear
Light blue school shirt
School blue/yellow jumper or cardigan
Blue and white school summer dress
Tie – Blue with yellow stripe.
Boys:
Light blue school shirt
School blue/yellow jumper or cardigan
Grey trousers /shorts
Suitable black footwear
Tie – Blue with yellow stripe.
Please Note :
Girls cannot wear pattern tights or socks.
Boots may be worn in winter for travelling to and from school. They can be worn at break and lunch times but children will be asked to change into appropriate footwear while indoors.
PE Uniform
Black shorts
T-Shirt in house colour (St Matthew – Red, St Mark – Blue, St Luke – Yellow, St John – Green)
Trainers or black sand shoes.
In the case of cold weather children are permitted to wear black joggers/leggings and plain blue hoodie or sweatshirt.
Please contact the office is you are unsure of your child's house group.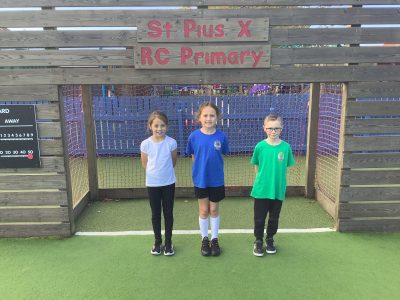 Hairstyles
We are very proud of the children at St Pius X and believe that their overall appearance should reflect these high standards.
Parents should be aware that we do not permit extremes of fashion in hairstyles.  Close shaved heads and patterns cut into hair or eyebrows are not acceptable.  Children who have shoulder length hair, or longer, should  tie it back for health and safety reasons.
Children with pierced ears should only wear simple studs that can be easily removed.  Apart from a watch, no other jewellery should be worn in school.