The story so far…
September 2021
Welcome Back!
The children settled into their new classes with their new teachers very quickly. We are looking forward to the opportunities and challenges the year ahead will bring us.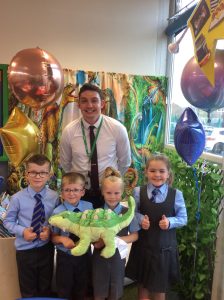 The Daily Mile
As a school, KS2 have started taking part in the Daily Mile initiative. Every day the children are taken outside and take part in a one mile run. It is a great way to keep fit and healthy and start our afternoon.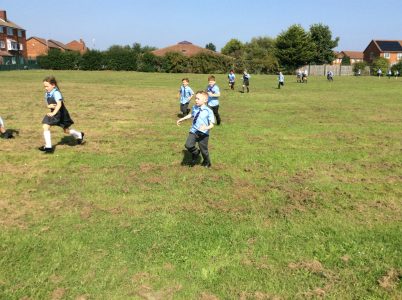 Y4 Trip to The Deep
Year 4 had a fun-filled memorable experience to The Deep as part of their new topic Blue Abyss. They got up close to lots of wonderful creatures that live in the sea. A great day was had by all!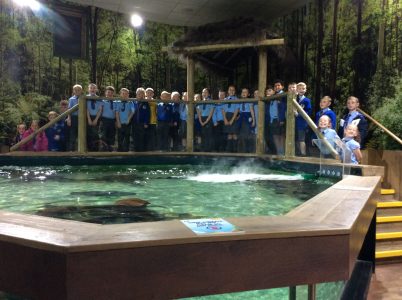 National Coding Week
As part of their computing lessons Reception-Y6 took part in national coding week. We completed age related activities with our reception children taking up this years coding challenge. They programmed robots around the wacky obstacle courses they created.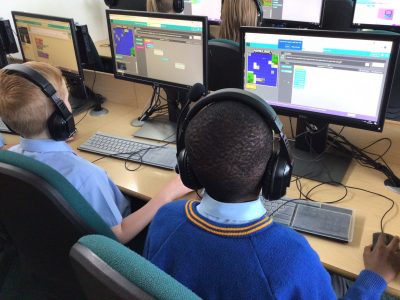 Y6 Transition to Trinity
Our new Y6 children began their transition sessions with Trinity Catholic College. They visited Trinity for the morning where they took part in a science lesson in which they deconstructed a heart as part of their learning for their current topic.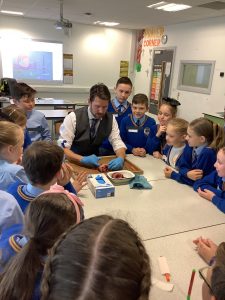 Fr Pat's Retirement
Sadly, this month we said a fond farewell to our much loved priest Fr Pat. Fr Pat is retiring back to Ireland after 40 plus years of being a priest in our diocese. We held our own street party after a live performance of the Irish Blessing, May the Road Rise to Meet You.  He will be greatly missed at St Pius X and as a school, we wish him all the best for his future.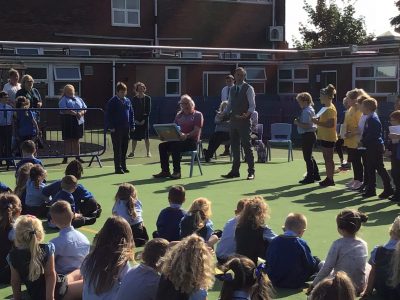 Democracy Week at St Pius X
This week our school elections took place. Our Y6 children put themselves forward for positions they would like to be considered for. They started their campaigns by preparing a speech, which they delivered via zoom, to the rest of the school. They then canvassed for votes trying to persuade their peers to vote for them.
Award Winner!
This young man from Y4 was nominated and WON the Middlesbrough Children Matter Award. He attended an award ceremony and was presented with his trophy for all the fantastic work he does within the community. Well done young man, your St Pius family is so proud.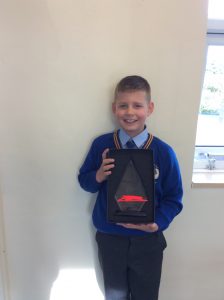 Macmillan Cake Sale
As part of the national coffee morning, our school council organised a cake sale. We raised over £100. Thank you to all our parents and carers for your donations, as always your support was tremendous.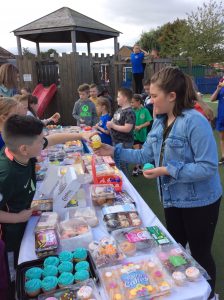 October 2021
French Morning
KS2 took part in a French morning which consisted of a carousel of activities. In our house teams we spent the morning making crepes, building the Eiffel tower, learning about the life of Henri Matisse and playing boules. Mrs. Walker led our French assembly were we all took part in a quiz and sang in French.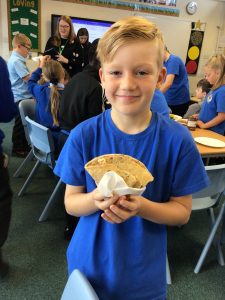 Y5 Trip – Forbidden Corner
As part of their topic, Alchemy Island, Y5 had a wonderful trip to Forbidden Corner. At every turn there were decisions to make and tricks to avoid. They explored the temple of the underworld, the eye of the needle, a huge pyramid made of translucent glass, paths and passages that led to nowhere and found extraordinary statues.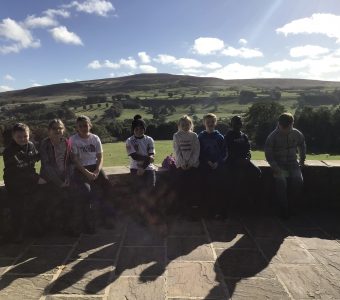 A visit from PC Hudson
PC Hudson, from Cleveland Police, came into school to talk to us about what it is like to be a policeman. He told us that we should aspire to be a police officer because everyday he gets to help people and because of that it is the best job in the world.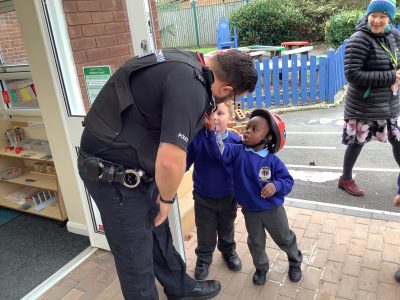 The Month of the rosary
Throughout the month of October we were given lots of opportunities to sit and pray the rosary together.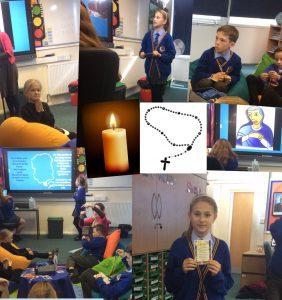 Show Racism the Red Card
To show our support for Show Racism the Red Card we came to school dressed in something red. In our classes we discussed what racism is, what different forms it can take and what we can do to help stop racism.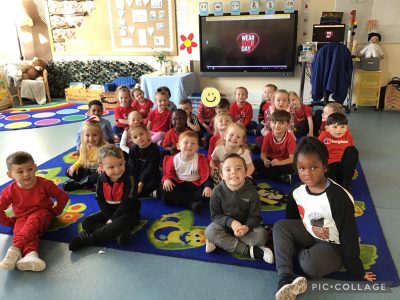 Pumpkin Competition
Once again, we got to show off our creativity by entering our annual scary pumpkin competition. We were so impressed with the effort children and parents went to. It was such a tough decision to choose the winners!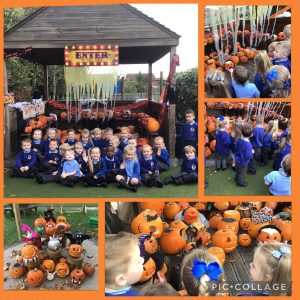 Harvest Festival
As part of harvest festival we all brought an item of food into school which was donated to our local food bank. Mrs Jackson led us in a collective worship in which we thought about how food is unfairly distributed across the world and what we could do to help this.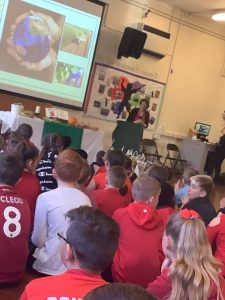 November 2021
Parliament Week
We started the term by taking part in Parliament week with an aim to engage our pupils with people parliament, politics and democracy. Mr Bennett led a whole school assembly then throughout the week children took part in various activities which included research, debates and public speaking.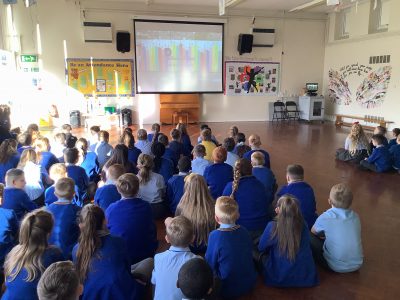 Sikhism
Across the school we have been learning about the Sikhism religion.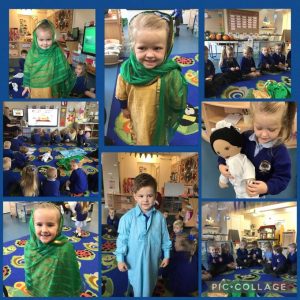 Robinwood Y6
Y6 went on a three day residential to Robinwood. As well as being very active, they took part in lots of team-building activities which helped them build on essential life skills such as resilience, perseverance and determination.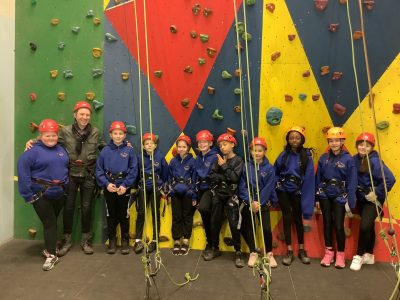 Y5 NPCAT Football Competition
The Y5 boys represented the school in the first NPCAT football competition. Despite stepping in for Y6, they managed to win a gold medal for winning the development league.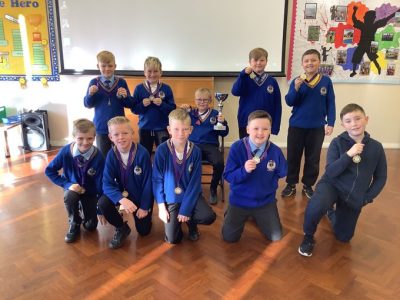 Remembrance Day
We paid our respects to those who have lost their lives in service by creating a whole school display. We created poppies at home with our parents which were added to a whole school display. Mrs Jackson led us in a whole school assembly in which we observed a minutes silence.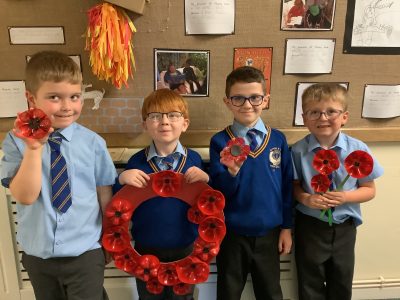 Welcome Canon Stephen
Canon Stephen, who has taken over from Fr Pat, popped into to school to meet all of the children and staff. He left us with a special box in which we can place any questions that we may have for him.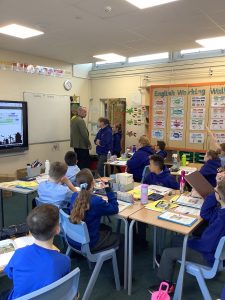 Y3/4 NPCAT Football Competition
Some of the boys in Y3 and Y4 were chosen to represent our school in the NPCAT football competition. They played their socks off and represented the school really well. Some future professional footballers for sure!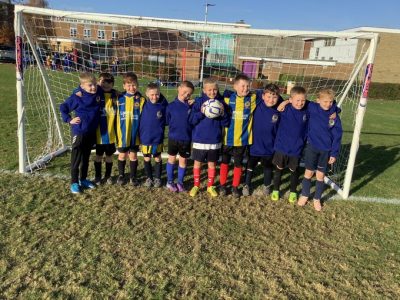 Children in Need
As part of children in need, we came to school in non-uniform (for a small donation) and took part in the BBC's Children in Need, Strictly Dance Challenge. There was some very impressive moves on display. Some very kind sweet gifts were brought in by children in Y4 and Y2 which they shared with their friends and sisters Jessica and Olivia held their own cake stall at home raising over £100.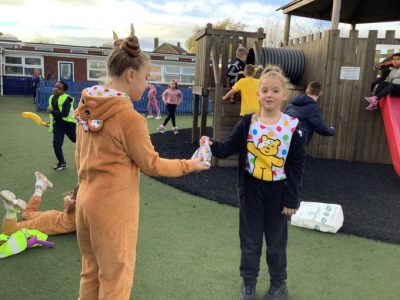 Anti-Bullying Week
This week we showed our support to anti-bullying week. We followed the theme of 'One Kind Word' and thought about what a difference this can make. We started the week wearing odd socks to show everybody is different. Throughout the week we all took part in various activities in our individual classes.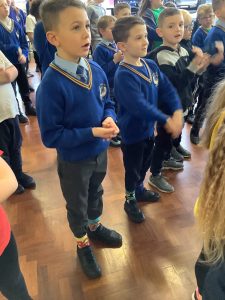 Year 6 Swimming
Year 6 completed two weeks intense swimming sessions. We were incredibly proud of how much progress the children made. Well done to you all!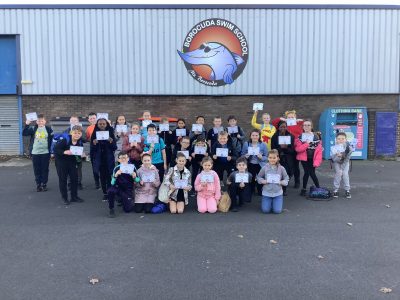 December 2021
CAUSE Hamper Campaign
All throughout December the children donated food items to add too their class hampers. As always, the generosity of our families shone through and we were able to donate lots of food towards the CAUSE campaign.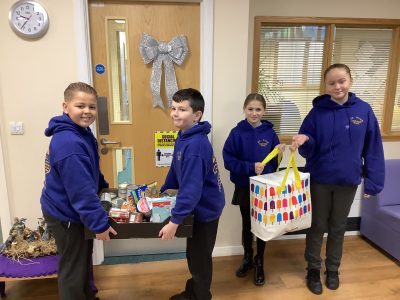 Christmas Pantomime
This year we were lucky enough to be able to attend the pantomime at Billingham Forum. Y1 – Y6 loved watching and joining in with the brilliant cast of Aladdin. Great fun was had by all.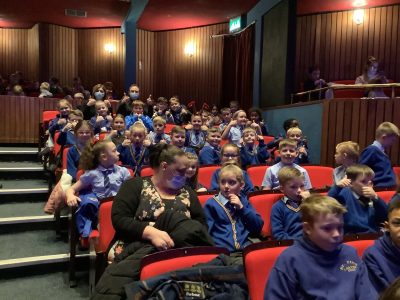 Winter Wonderland Competition
We held our annual Winter Wonderland DT project. As always, the competition was a tough one to judge because of the creativity on display.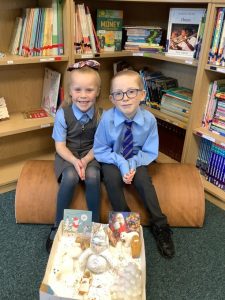 Father Christmas Visit
Despite COVID restrictions still in place, Santa still made time to visit us here at St Pius X. We created an extra special outdoor grotto to make sure Santa was well looked after.
Advent Christmas Book Winners
Everyday during Advent children, who were spotted spreading the Christmas spirit in school, were chosen by staff and presented with a book.

Christmas Nativity
With COVID restrictions still in place, this year the nativity took place virtually. The children certainly enjoyed performing on stage.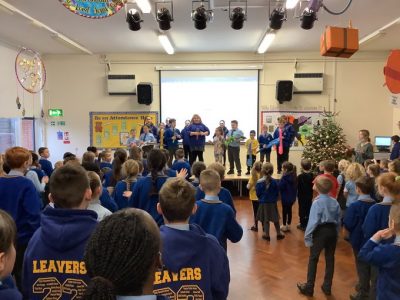 Cherry Hill Visit
Foundation stage had a wonderful time on a magical visit to Cherry Hill Garden Center. They especially loved meeting Santa's reindeers.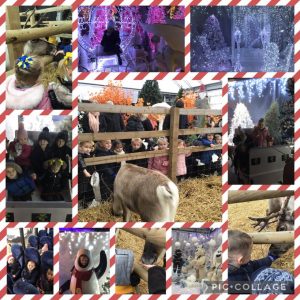 Stars of the term
Well done to these children who who truly earned their Star of the Term certificates.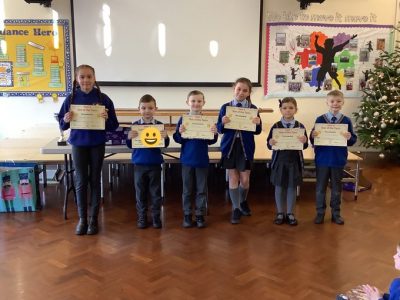 January 2022
Visit from a geologist
Year 3 kicked off the new year and their new topic with a visit from a geologist. They found out about lots of different types of rocks and looked at how rocks can be classified.

KS2 Athletics Competitions
Y3/Y4 and Y6 took part in the first NPCAT athletics competition at Eston Sports Center. Staff were very impressed with their determination and sportsmanship.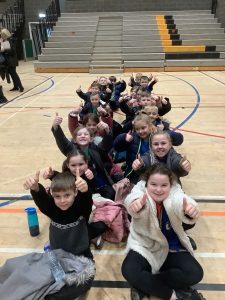 Music with Tees Valley
We have had a great start to the term in music. Tees Valley Music Service have started their sessions with the children from Nursery to Year 6. We are looking forward to a concert when we can see all of our new skills we will have learned on display.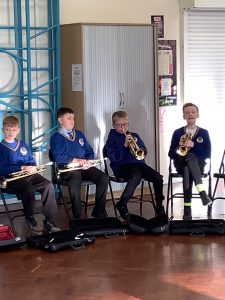 Y6 Stepping Up
Y6 have enjoyed their sessions with Mr Foster thinking about their transition to secondary school.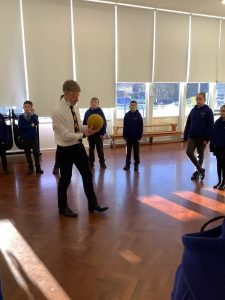 February 2022
National Number Day
This year, the whole school took part in the NSPCC's National Number Day. We came to school dressed as mathematical things and took part in various activities such as number hunts, number games and mathematical art. As always, the costumes on show were FANTASTIC!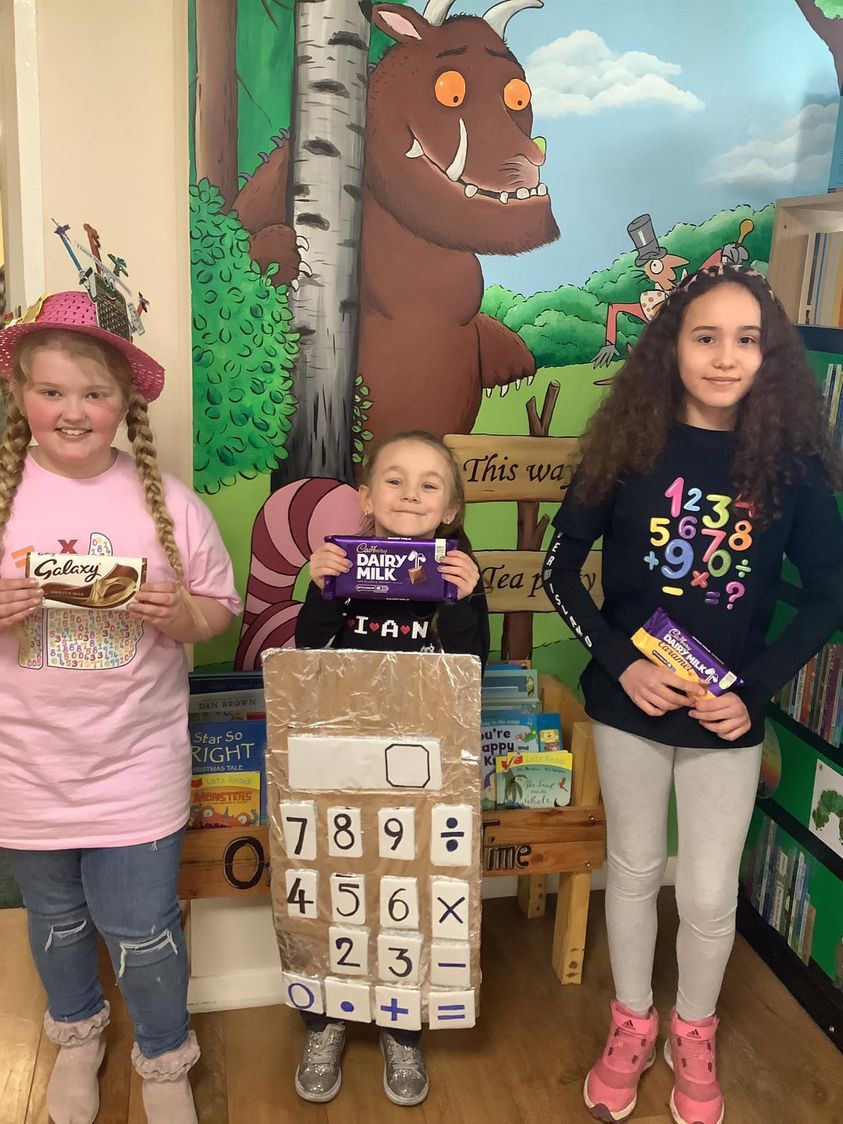 Safer Internet Day
On Tuesday 8th February we took part in Safer Internet Day to do our bit to help make the internet 'a place we trust'. Each class completed age-appropriate activities. We focussed on gaming and how we can be responsible gamers.
Year 4 Swimming
This month Year 4 completed their two week intensive swimming program. We were incredibly proud of the improvement in the swimming skills. Well done!
Aspirations Week
This week, we were joined in school by some special people who gave up their time to pop into school to speak to us about their jobs. We had visits from: female firefighters from Cleveland Fire Brigade; James from Teesside Lions; our very own European Champion Kickboxer, Mr Cara; and a special performance from Brooke Burke, a local singer and dancer.
Headstart
Year 5 have started their training on becoming Mental Health advocates for St Pius X. They have enjoyed the sessions from Headstart and are looking forward to the rest of the sessions over the next few month.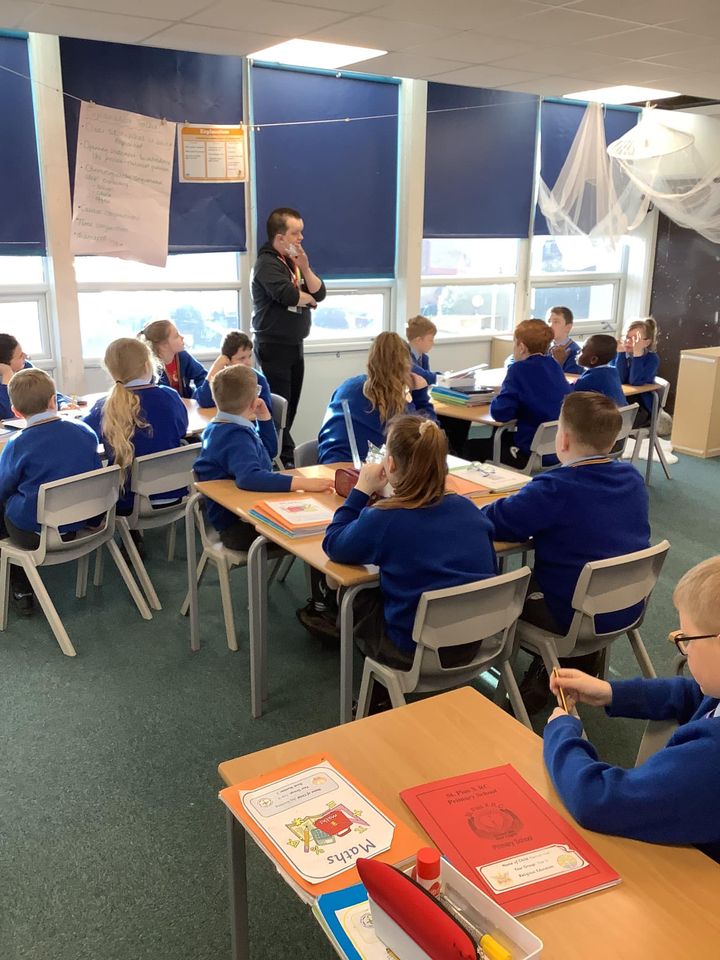 NPCAT Basketball/Netball Competition
Our Y5/6's took part in two competitions in basketball and netball this month. They showed incredible determination and sportsmanship. Great results from both teams against teams from our NPCAT family.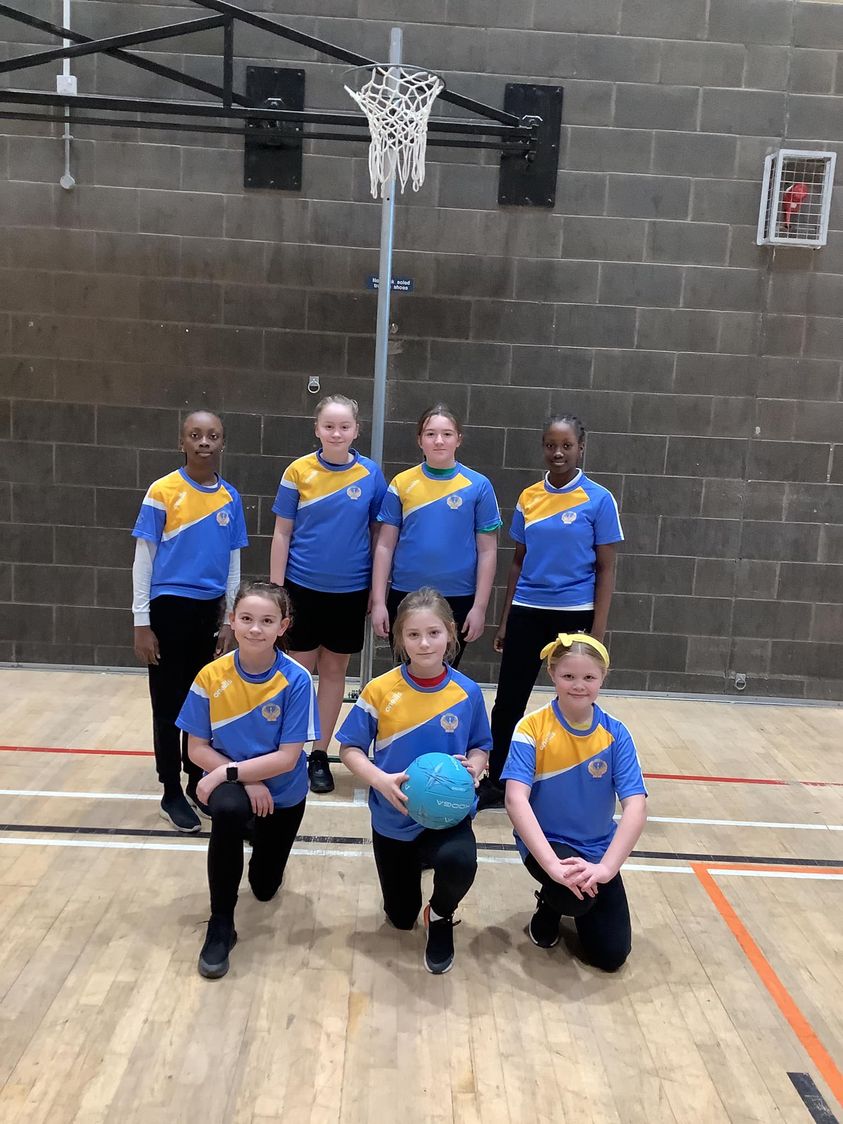 March 2022
Lenten Pilgrimage
We began our Lenten pilgrimage in assembly learning about how Lent has traditionally been a time of pilgrimage, particularly to the Holy Land as we prepare to commemorate Our Lord's Passion.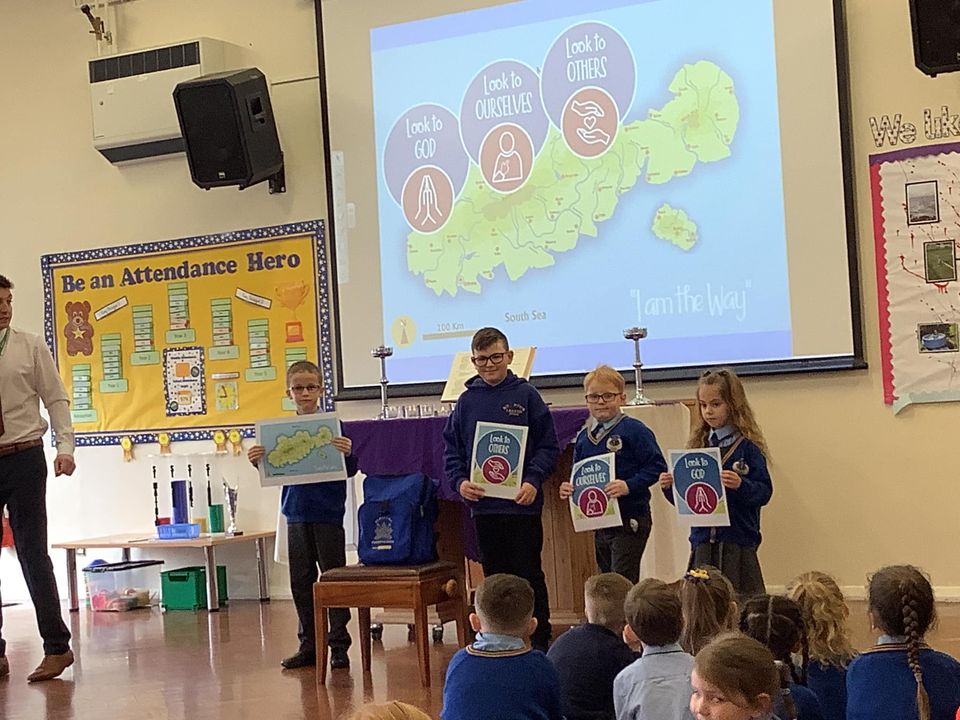 World Book Day
To celebrate World Book Day, we all took part in lots of different reading activities throughout the day. There were lots of unusual characters from our favourite books hanging around school this day!
Ukraine Appeal
School council organised a fundraiser day for the people of Ukraine. We reflected on what they were going through and Miss Haycock, along with the choir, led the school in a wonderfully moving song for the people of the Ukraine.
National Day of Reflection
Two years on from the first lockdown in the country's fight against coronavirus we stopped to reflect on what had happened over the last two years but also thought about our hope for the future. Miss Haycock led us in an assembly in which we listened to some thought-provoking music from Tees Valley Music Service.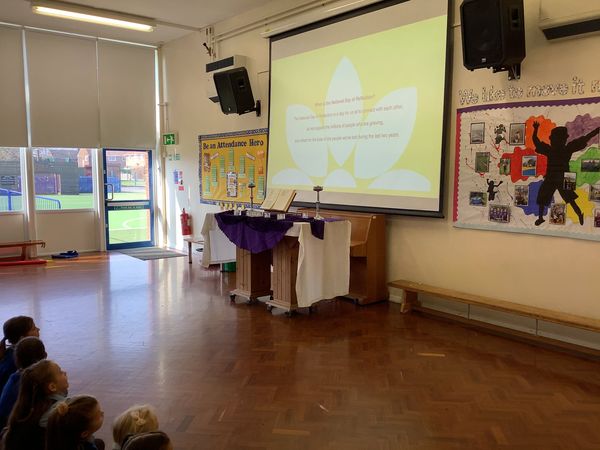 Our Ducklings are Born
Our long-awaited and highly anticipated ducklings have finally hatched. The four adorable little ducklings have caused lots of excitement, not only throughout school but also via our social media. People from far and wide have been asking to come in and meet Dotty, Lucky, Rex and Beau.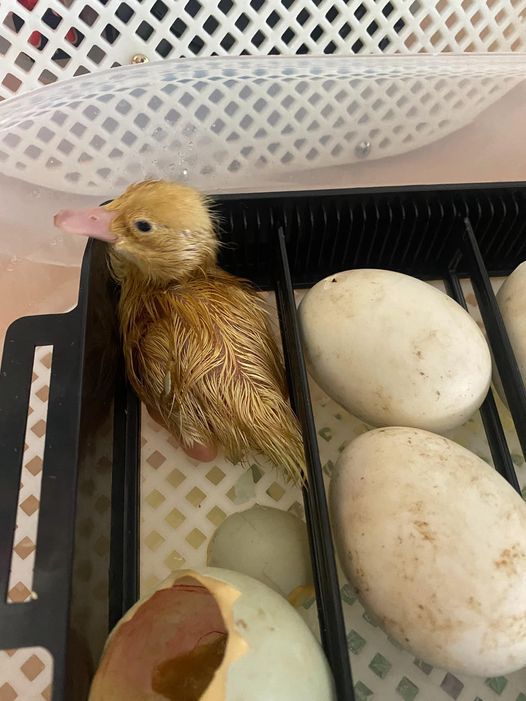 April 2022
Easter Liturgies
It was great to finally be able to have our parents back in school. This week they joined us every day as each class led us in an Easter Liturgy. We stopped to think about what happened in the Holy Week.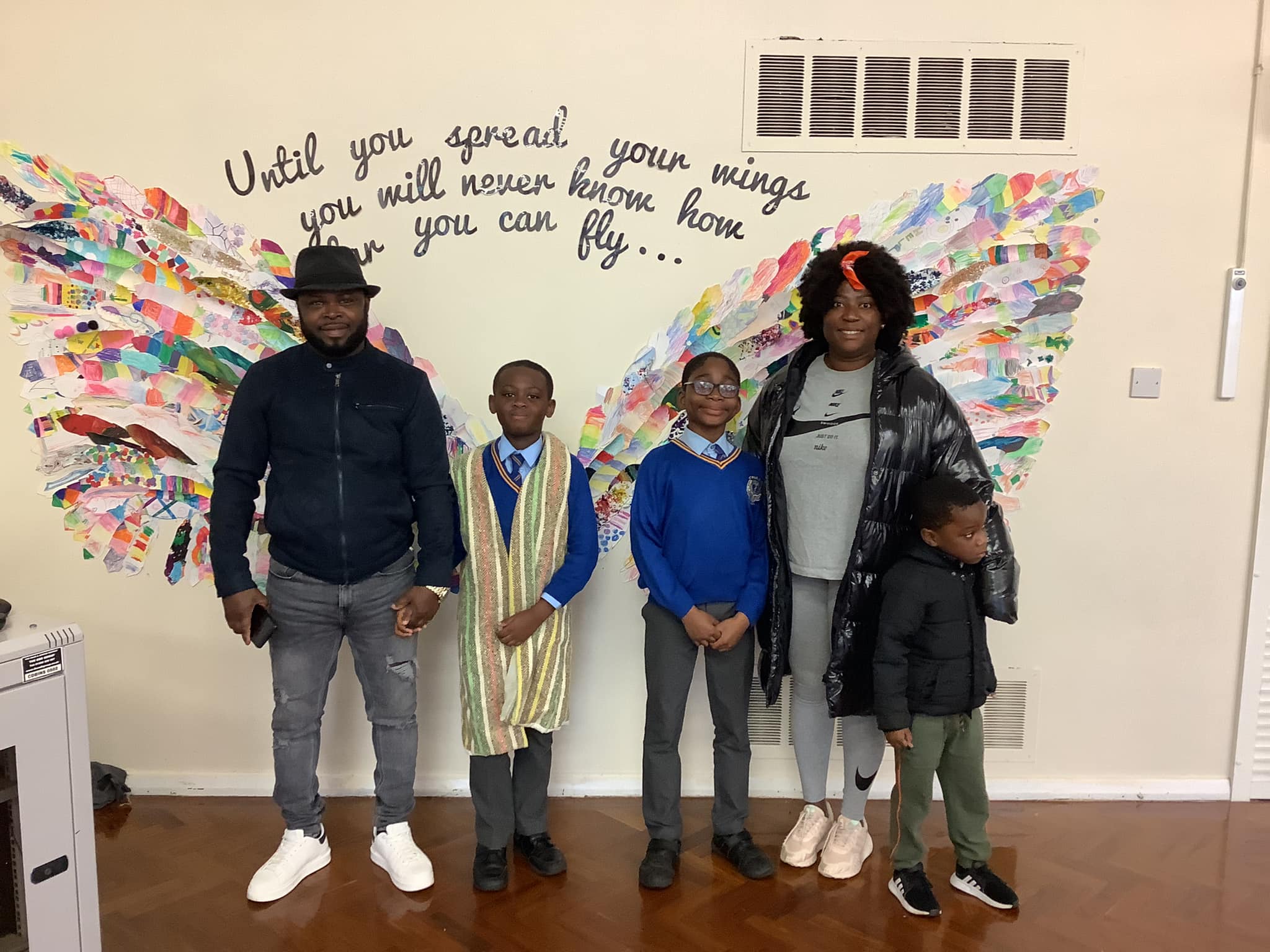 Easter Headwear Competition
This Easter, we got our creative juices flowing and created some amazing Easter headwear. The judging was left up to Mrs Shaw who had such a tough decision on her hands. Well done to our winners and everyone who entered.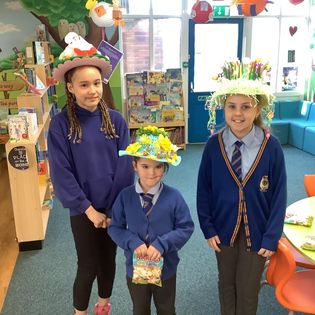 100% Attendance Winners
It was great to see so many children received a certificate and a small prize at the end of term for being in school everyday this term. An extra special prize was awarded to the children who haven't had a day off since September. Well done to you all.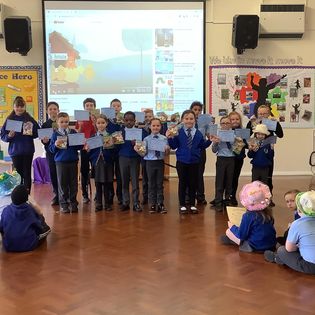 Headstart
Y5 have continued to enjoy their Headstart sessions with James. They have been learning techniques and training to become Mental Health Mentors for other children in school. Watch this space!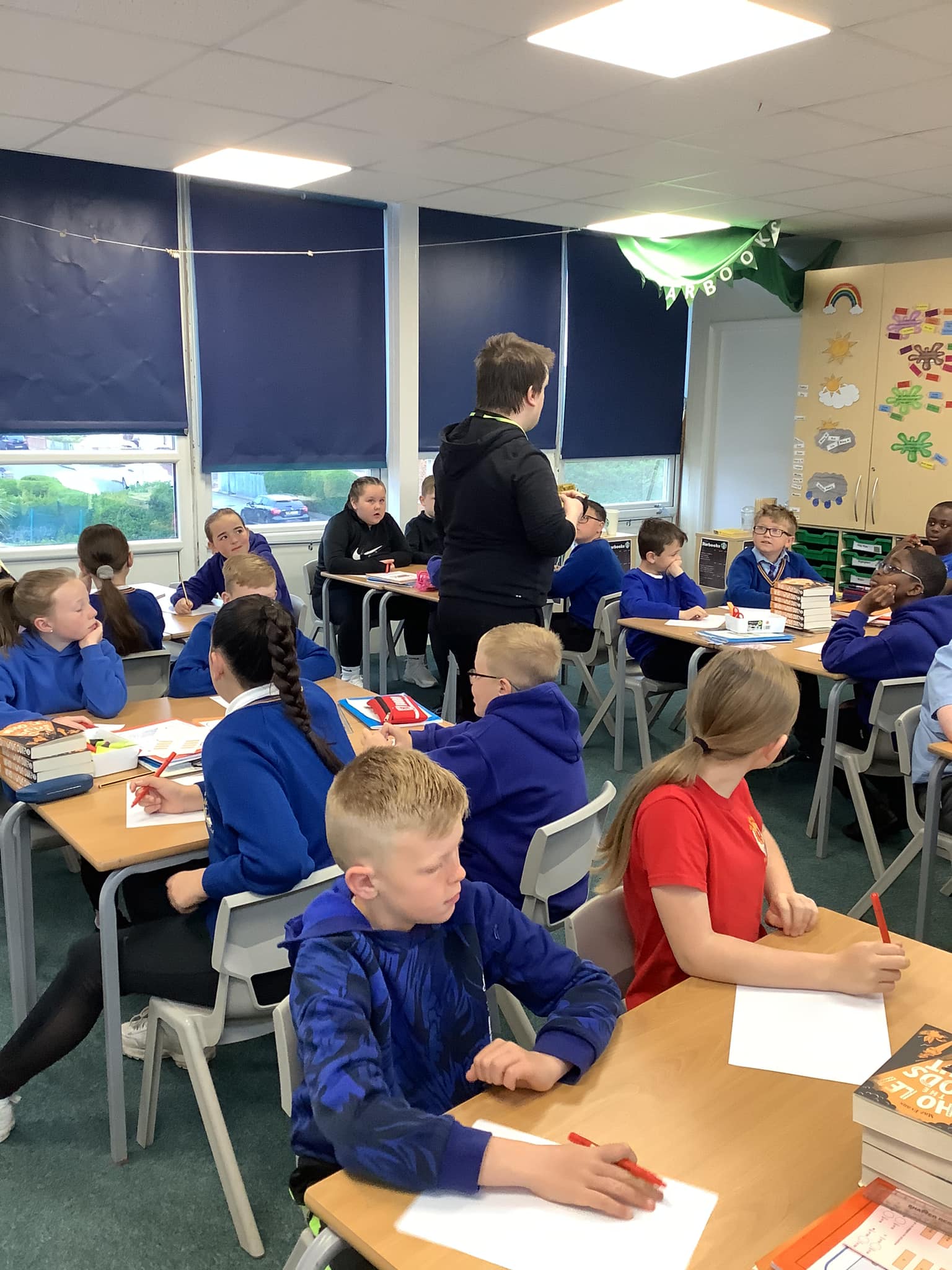 May 2022
Judo Taster
Y1-Y6 really enjoyed their taster sessions with Aspire Judo. Who knows, we might even be teaching future olympic champions.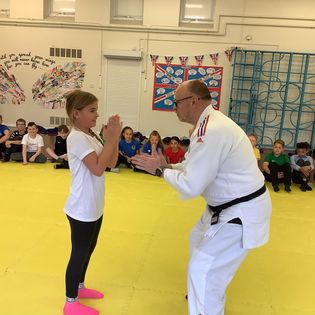 Stay and Read
Year 1 and 2's reading morning was a massive success! Thank you to all of our wonderful parents for coming to share a story with the children.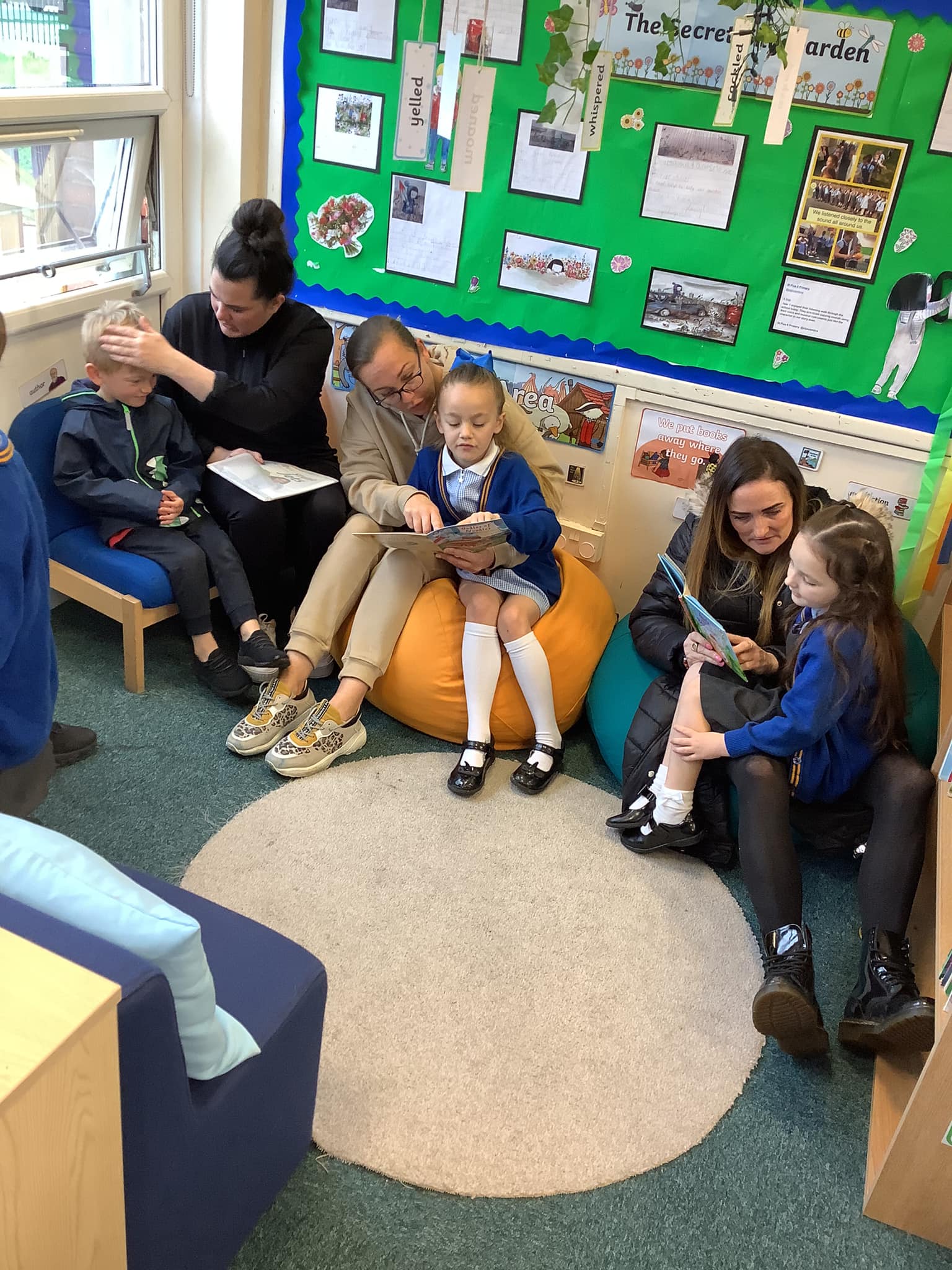 SAT's Week
We are so proud of the hard work, resilience and determination shown by our Year 6's this week. We ended the week with some well-earned down time with plenty of treats which included them being special guests on our top table. Well done to you all.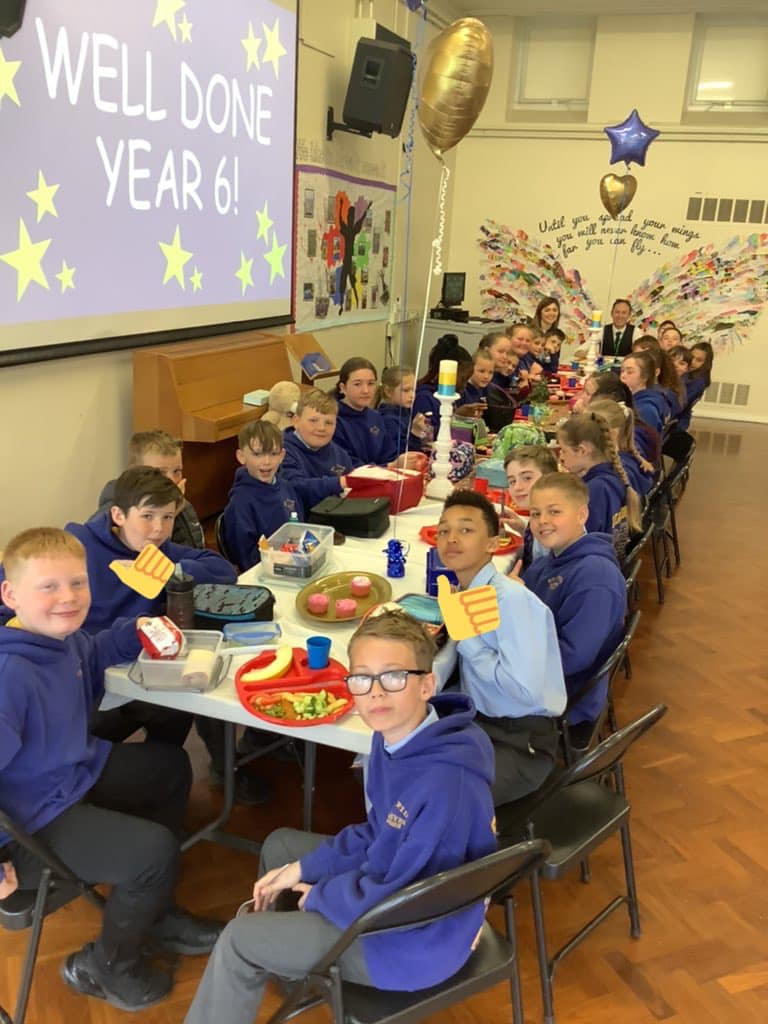 May Procession
Miss Haycock led the whole school in a poignant May Procession which ended with our crowning of Mary. Thank you to all parents who sent in flowers.
*INSERT VIDEO*
Platinum Jubilee Celebrations
To celebrate HRH Queen Elizabeth's 70 year reign we spent the day taking part of lots of activities and ended with a fabulous street party.