The story so far…
September 2020
Welcome back after lockdown
After 6 months away from school for some children we are delighted to have finally fully re-opened. We are so proud of every single one of the
Our New Library
As we welcomed the children back we were able to reveal our new fantastic new library. Situated in the heart of our entrance hall it is a firm reminder to us all that reading is at the centre of everything we do at St Pius X.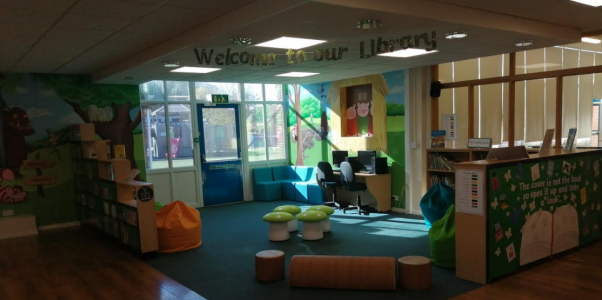 New Outdoor area for EYFS
Over the summer holidays phase 1 of the redevelopment of our EYFS outdoor area was completed. The playground was extended and new paving laid to join the new area with the old. The new mud kitchen was installed and new areas set up. This is only the beginning of our redevelopment. Watch this space!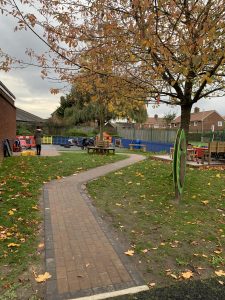 Danby Trip – Year 3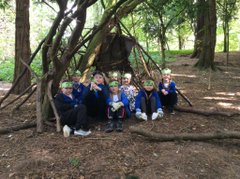 Year 3 travelled to Danby forest to take part in a Stone Age experience Day. They were teamed up into tribes and investigated some of the tress from that time that still grow today! They looked at how the stone age people used these trees to help them survive. Let loose into the woods, the children had to find resources, from the wild, to build their own shelters. They even got to light their own fires!
Macmillan Cake Decorating
This year we supported Macmillan Cancer Support's Coffee Morning campaign 'Nothing stops a coffee morning'. Across the week, all children had the opportunity to decorate their own cake or biscuit with Mrs Phoenix (our school cook). The children brought in a donation.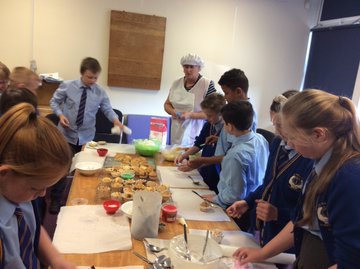 Stewart Park Trip – Year 1
Year 1 went on a Gruffalo Hunt to Stewart Park. We got on our walking boots and set off to find the Gruffalo. While we were at the park we went on a wildlife hunt looking for different types of trees and birds. We made tree rubbing pictures and hid in the woods were Mrs Tye read us the story 'The Gruffalo'.
After School Clubs
After school clubs including computer club and Fitness club have been set up in our class bubbles. Year 5 have been introduced to 'Bootcamp Style Fitness' in fitness club and our online safety ambassadors have been working hard in Computing club.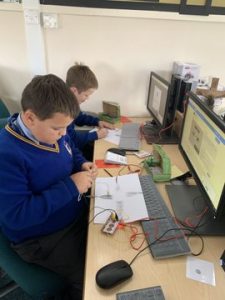 Homework
Our introduction of new homework grids, which are based on a points system, have proven to be a huge hit with the children and their parents. A wide variety of creativity has been displayed for our first topics across the school the homework has consisted of lots of model making including. It has been great to see the children so enthusiastic about their homework and seeing how proud they are of their work.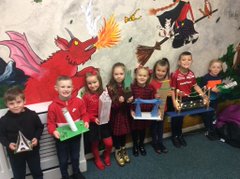 October 2020
Whorlton Castle
Year 2 enjoyed their first memorable experience of the academic year. They travelled to Whorlton Castle for their topic to understand what life would have been like to  live in a castle. After a look around the castle, Year 2 went on a hunt for pirate graves in Whorlton's ancient grounds.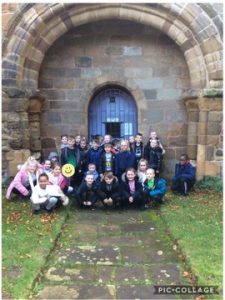 Halloween Pumpkin Competition
Our Pumpkin competition was a huge hit! The effort and creativity on display was amazing. Mrs Walker and Mr Bennett had such a hard job choosing our winning 'Scariest Pumpkins'.The children also came to school dressed in Halloween costumes and thoroughly enjoyed the day. In such strange times, when halloweening and such event are restricted, it was great to see the children having so much fun, safely in their class bubbles.
Harvest Festival
We ended the term with Harvest Festival. The children brought in donations of food from their families to give to families in need. We will be making sure that these food donations go to families within our community who may need a helping hand over the coming months. Once again we thank our parents for their fantastic support.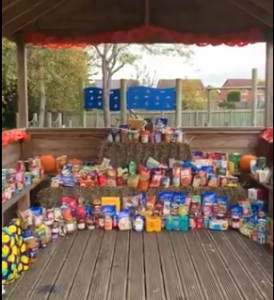 November 2020
Parliament Week
We started the term by taking part in Parliament week with an aim to engage our pupils with people parliament, politics and democracy. The children took part in various activities which included research, debates and public speaking. Our school council were kept VERY busy this week.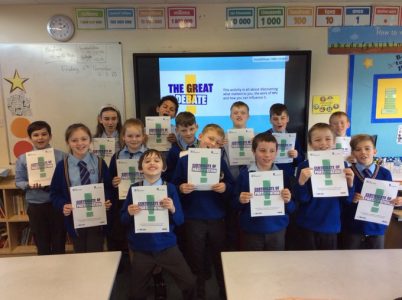 Remembrance Day
We paid our respects to those who have lost their lives in service by creating a whole school display. We laid crosses made by a friend of the school which we had decorated in our bubbles.. Mrs Jackson held a very poignant (socially distanced) collective worship outside. Part of the collective worship was to place our 2p donations on the ground in the shape of a poppy. The children also completed work on the meaning of Remembrance Day in their bubbles. All children were given a knitted/crocheted poppy knitted by friends of the school community.
Children in Need
As part of children in need, we came to school in non-uniform (for a small donation) and took part in the BBC's Children in Need, Strictly Dance Challenge. There was some very impressive moves on display.
Anti-Bullying Week
This week we showed our support to anti-bullying week by all being 'United Against Bullying'. We started the week wearing odd socks to show everybody is different. Throughout the week we all took part in various activities in our class bubbles. Some of these activities were led by the school council, peer mediators and Mr Bennett.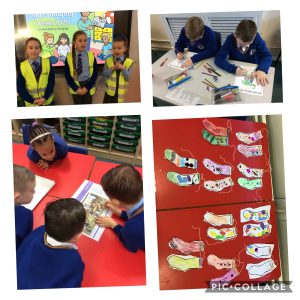 Y6 Victorian Middlesbrough Tour
As part of their Revolution Topic, Y6 went on a walking tour of Victorian Middlesbrough. They walked to Albert Park and through town looking for sign of Victorian Middlesbrough with a focus on Henry Bolcklow.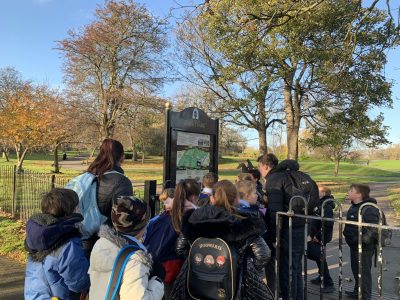 December
CAUSE Hamper Campaign
All throughout December the children donated food items to add too their class hampers. As always, the generosity of our families shone through and we were able to donate 10 hampers to the CAUSE campaign.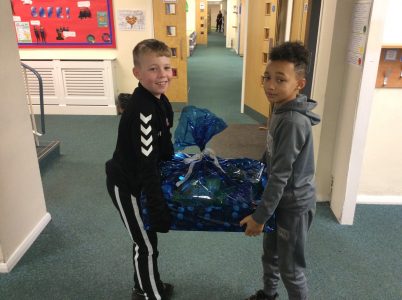 Blessing Bags for the Homeless
We created Blessing Bags for the Homeless to spread a bit of happiness at what could be a difficult time for some people. Staff donated goods and our year 6's made up the bags. We delivered the bags to the Homeless Cafe. After making the bags, one Year 6 child donated some selection boxes which he bought using his own pocket money. He said, 'Everyone deserves a little bit of happiness at Christmas'.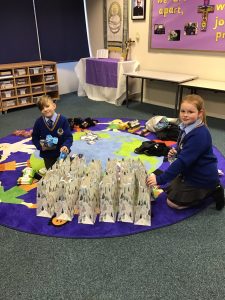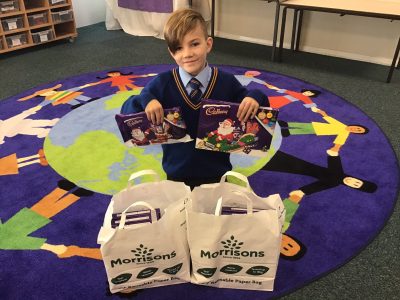 Christmas Pantomime
COVID-19 didn't stop us watching our traditional Christmas Pantomime. This year we watched a virtual edition of Jack and the Beanstalk in our bubbles. We all had a fantastic time.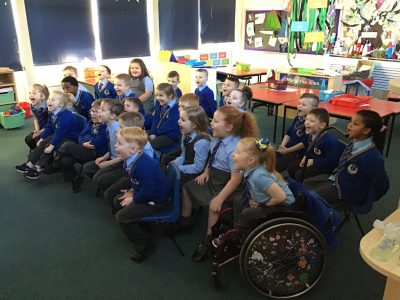 Rudolph Run
We all grabbed our antlers and held our very own Reindeer Run for Teesside Hospice, who offer palliative care for people who are living with life-limiting illness when a cure is no longer possible.

Winter Wonderland
We held our annual Winter Wonderland DT project. As always, the competition was a tough one to judge because of the creativity on display. Below is a picture of our winners with the judges (Mr Bennett, Head Boy and Head Girl).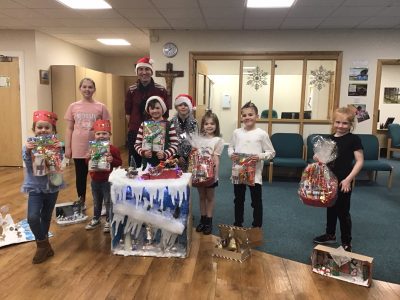 Christmas Jumper Day
We had lots of fun sporting our Christmas jumpers on Christmas Dinner Day. There were some very festive outfits on display that brought some cheer to a lockdown Christmas.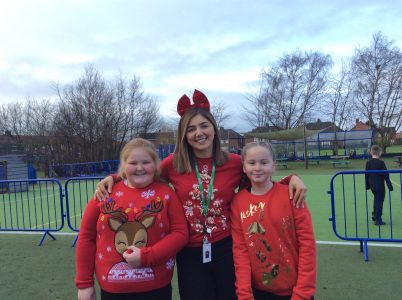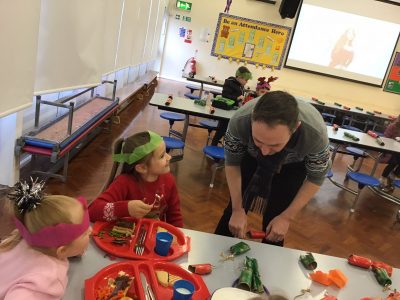 Father Christmas Visit
Despite approaching a COVID Christmas, Santa still made time to visit us here at St Pius X. We created an extra special grotto to make sure Santa was well looked after and all enjoyed a hot chocolate while we were waiting to keep us warm outside.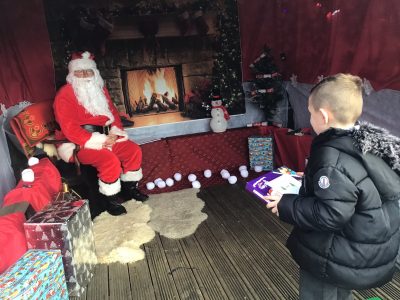 January
National Lockdown III
After just one day of the term, Boris Johnson announced schools were to once again close to all pupils except those of critical key workers. Determined not to have a repeat of the first lockdown we quickly moved our learning online. Supported by our wonderful parents our children adapted well to the changes.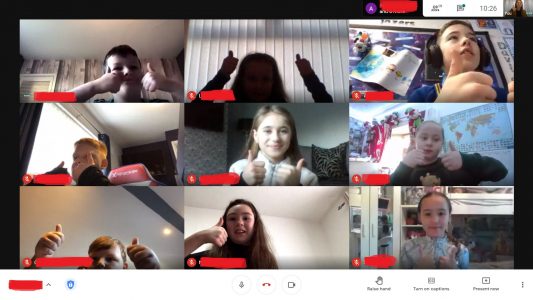 Technology Donation Campaign
As we entered yet another national lockdown, a child from Year 3 took it upon himself to help get all his classmates online. He created a plea for donations to be made to the school via YouTube and even made an appearance on our local radio station. All of his hard work and determination raised a staggering £830 in cash and numerous devices were donated to school. On behalf of your classmates… THANKYOU!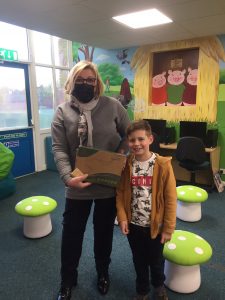 National Mental Health Week
As part of National Health Week the whole school took part in a range of different activities which included: self praise jars, use of metaphors for feelings, we danced, we painted and we sang amongst lots of other things. The theme was Dress to Express so, to end the week, we all dressed in our favourite clothes.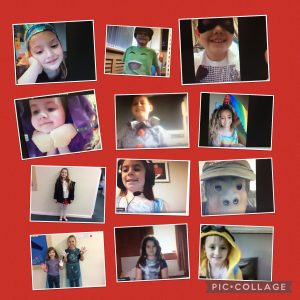 February
Safer Internet Day
On Tuesday 9th February we took part in Safer Internet Day to do our bit to help make the internet a better place for us all. In our classes we looked at different ways we can keep ourselves safe with a particular focus on how easy things can be falsified on the internet. Mr Connelly held an online whole school assembly and set all our families a challenge. We had lots of entries to our competition with three Movie Hamper Prizes. Well done to everyone for taking part.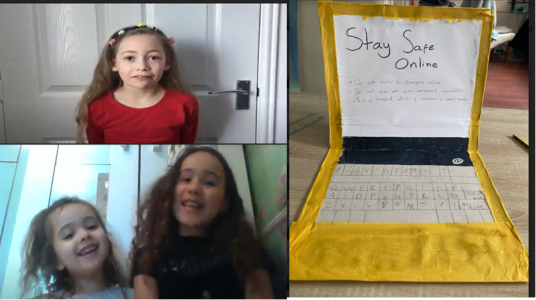 March
World Book Day
To celebrate World Book Day, Miss Dixon encouraged all staff and children to take a photo of themselves reading in unusual places. Prizes were awarded to the winners. The staff also took part in a Masked Reader Competition which we promoted through our social media.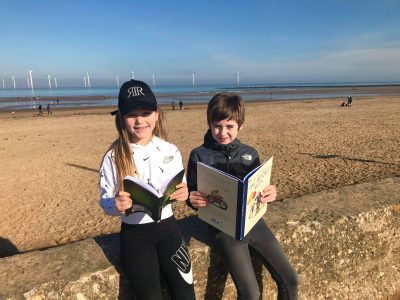 'Boro Champs' Allotment Equipment Donations
The Middlesbrough Champions offered to help us get our allotment area up and running. After a little Facebook campaign, they managed to supply us with lots of wonderful donations of spades, watering cans, fruit and vegetables etc.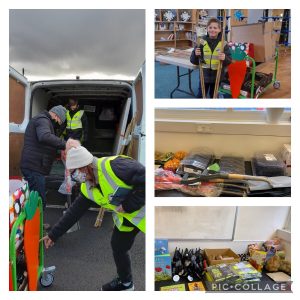 Back to School!
On March 8th school once again re-opened to all children. Children, staff and parents were delighted to that we were all back together. We were immensely proud of how the children adapted to their online learning.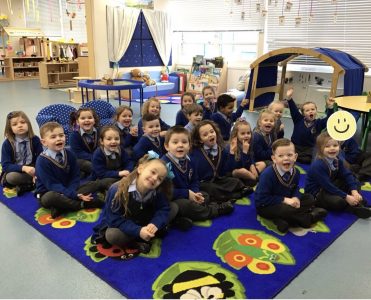 St Joseph Novena
Throughout March we prayed a Novena at school in preparation for the Feast of St. Joseph on March 19th.  St Joseph, Guardian of the Church, pray for the Holy Catholic Church.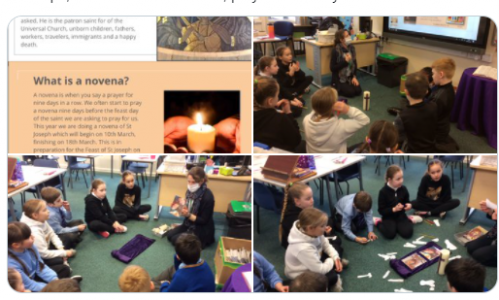 Silly Science
As part of National Science Week, KS2 had some science fun with Professor Molecule. We took part in all kinds of exciting experiments some which were funny and others which gave us a little fright – we loved it!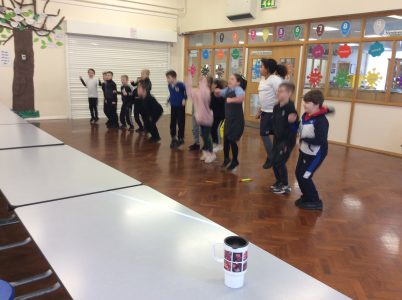 Community Champions
The Middlesbrough Community Champions continued their work on improving our school grounds by making and hanging bird boxes for our garden area and planting fruit bushes in our allotment. The Mayor of Middlesbrough, Andy Preston, popped down to lend a hand.
NPCAT Live Workout
As a whole Trust family, all of our schools took part in a virtual workout live.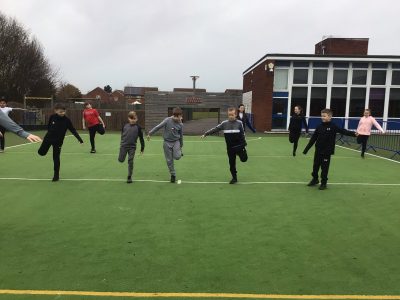 National Day of Reflection
One year on from the first lockdown in the country's fight against coronavirus we stopped to reflect on what had happened over the next year but also thought about our hope for the future. We created an umbrella display in the hall and our garden of hope for the community. That night we all stood on our doorsteps with our little lights.
ENTER VIDEO HERE
April
Scarecrow Competition
To help keep the pesky birds away from our new fruit and vegetables we held a whole school Scarecrow Competition. The entries were absolutely fantastic and some now have a new home in our allotment. Well done to everyone who entered.
Easter Liturgies
Throughout Holy Week, each class led us in a virtual liturgy. We stopped to think about Palm Sunday, Spy Wednesday, Maundy Thursday and ended the week with Y6 leading on the events of Good Friday.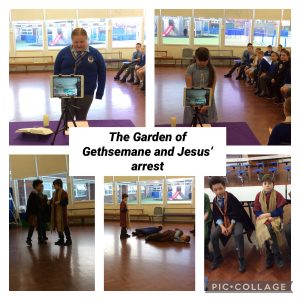 Paste Egg Competition
We held our annual paste egg competition an as usual we were blown away with the creativity of the entries. They always bring a smile to everyone's face and it is a great way to end the term.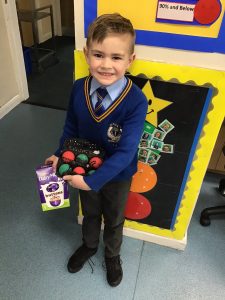 Marie Curie
After much deliberation our school council decided that this year they wanted to to raise money for Marie Curie. Not only were we raising money for a fantastic charity, we were also getting ourselves out-and-about and active after a year in lockdown. Chris Kamara, one of our ex-pupils and patron for Marie Curie, helped us deliver an assembly about our Cycling Challenge and staff created a video to motivate the pupils. After a month long challenge we raised an INCREDIBLE £1531. Thank you to everyone in our community who sponsored our youngsters.
ENTER VIDEO HERE
Internet Legends
Our Digital Leaders enjoyed taking the lead on our Be Internet Legends Initiative. Each child from Y2 up over received their own Internet Legend trophy from Google UK Ltd. They had to complete an online safety quiz which, if they answered it correctly, gave them instructions on how to build their trophy. Together with our families we are becoming confident, safe users of technology.